I was fooled. I thought they were photographs, large-format and digitally manipulated, of course, as you might expect in this day and age. A certain colour dominates in every work: olive green, deep dark-blue or red-brown, but there are also less common colours such as intense purple or soft lilac, as if a colour filter has been applied. One image could be a greatly enlarged and processed photo of a detail of a sponge, the other an aerial photo of a planet or a desert region perhaps. Some resemble blown-up microscopic shots of bacteria, others look like weather-beaten stone masses underwater. However, I was assured that these were not photographs but pure painting.

Martijn Schuppers sees no need to keep his technique a secret. He is pleased to explain. He begins with a monochrome surface, on an oil-paint basis if the first layer is black or on an acrylic-paint basis if the first layer is lighter. Subsequently, when this layer has dried, he applies a thin layer of transparent oil paint, mixed with a substantial proportion of quick-drying alkyd. Then, while this layer is still in the process of drying, he attacks it with turpentine-saturated brushes or blister plastic, or he may even throw splashes of turpentine onto the canvas – which is lying on the ground during this treatment. The upper layer of paint on the turpentine-soaked parts dissolves, so that the underlying layer is revealed. Streaky traces remain visible where the brush has been drawn across the canvas, round patterns are visible where blister plastic has been applied, an indefinable shapes remain where drops or splashes of turpentine have landed. Finally, the brush is again applied to the canvas, countless times, up and down and from left to right. The dissolved fragments of paint are dislodged and eventually get stuck and accumulate along certain edges of the dissolved surfaces which seem to light up at those spots.

For a long time I had lost faith in the art of painting. After Polke and Richter, I believed that no other painter would ever be able to match their work. Of course, reasonably interesting artworks continue to be produced, but I am hardly ever surprised let alone deeply touched. Now, suddenly, to my own amazement, I am again capable of staring for hours at a newly created painting. Martijn Schuppers' starting point is, in his own words, the last painting: a monochrome surface, as Alexander Rochenko painted three monochromes in the primary colours in 1921, and Ad Reinhardt later produced his 'black' monochromes. After these monochromes, what is there left to paint? Fontana's response to this was to assault the canvas itself, by making slashes or holes in it, thus literally absorbing into the painting the space that was no longer permitted in twentieth-century art. Schuppers' answer is an attack on the layers of paint. Literally and figuratively he dissolves monochrome painting by means of pure painterly methods. He paints, but uses turpentine instead of paint. The surprising effect is that the spatial illusion that has been denied to modernist painting for so long now reappears in a self-evident manner, via a pure painterly intervention. Schuppers' paintings suggest a bas-relief, and even a mysterious, deeper space in some cases. The work is built up on the ruins of the last painting, as it were. Schuppers' work also resembles futuristic decors to a certain extent. He manages to evoke, with the traditonal medium, a marvellously modern and occasionally even sci-fi-like personal universe. A delight in painting, which I had apparently lost, has been restored to me. I am extremely grateful to him for this.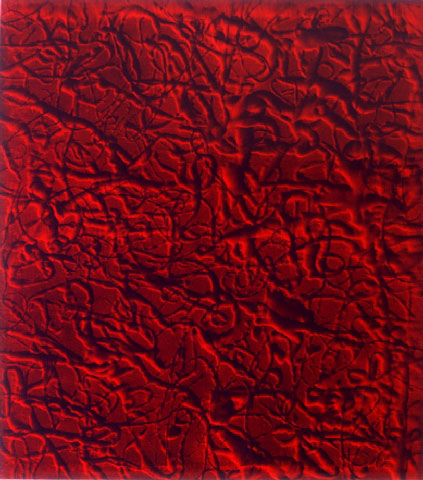 #0008 (2000)
140 x 130 cm. Alkyd and oil on polyester
Private collection Amsterdam